Monthly Archives:
February 2017
An announcement went up last week on the IFTF blog. You may already have seen it, but it's important and I want to talk about it some more.
[...] While we wish we could take over and maintain software projects, we just don't have the resources right now. What we can do instead is act as social matchmakers and try to connect projects with volunteers.

Toward this end, we're establishing a new project called the IFTF Adoptable Technology Archive.

The IFTF Adoptable Technology Archive will be a public archive of adoptable technology on GitHub. If someone owns a project that needs a new owner, they can put it on a free and open-source software license (we favor the MIT license) and pass it over to us, and we'll put it up on the archive. The benefit of using our archive (instead of putting it up on GitHub as an individual) is that it will be visible under the IFTF "adopt me!" umbrella. This will create a place where developers can go and see all submitted IF projects in need of adoption, while abandoned projects benefit from the related publicity. We'll also announce all new additions to the archive via our social media channels.

(-- announcement, Feb 14, IFTF blog)
(The Adoptable Technology home page now exists!)
One of the unfortunate truths of the hobbyist IF field is that most of our open-source projects have lost momentum since the late 1990s. There are a couple of reasons for this. A cohort of fans who grew up with Infocom became energetic 20-somethings with lots of free time, but are now 40-somethings with families, mortgages, or other such temporal entanglements. Also, the IF field has become more diverse. When everybody was playing Z-machine games, there were lots of people working on Z-machine interpreters! But the field has broadened.
There have also been many, many experimental IF projects that never went anywhere. Some of these can be found on the IF Archive, or even on GitHub. But if you don't know they exist, they might as well have vanished.
The Adoptable Technology project is our first small step towards saving these projects. As the announcement says, we don't (yet) have the resources to actively maintain them. Instead, we can put them into a sort of showcase (a GitHub organization). This has two incremental benefits:
Onlookers can see the list of projects in the collection. They are, at minimum, no longer invisible.
If someone wants to pick up a stalled or abandoned IF project, they have a list of possibilities to compare.
To be sure, not every stalled or abandoned IF project needs to be in the collection. We're not pushing this as a panacea! Nor have we committed ourselves to filling it up. An IF project maintainer may just be looking to recruit volunteers, or to hand the project off in some other way.
Quest is an example from a couple of months ago. They spread the word that they were looking for new maintainers, and they were able to find people that suited their needs. We're happy to help pass along such requests from anyone in the IF field.
But if a project really loses all support, we've got a place for it that will help avoid total invisibility. That's what the Adoptable Technology collection is. It's currently empty except for a README. Perhaps it will remain so for a while. But it's our small step.
Bruno Dias's space-text-RPG Voyageur was released this week. I spent a bunch of time playing it, which reminded me that I'd just spent a bunch of time playing Out There, and a bunch more time last month playing FTL. Three games about flying through space -- a randomized construction of space, with many hazards between you and your (distant) goals.
Let me start by describing each game. If you're familiar with all of them, skip on ahead to the comparing and contrasting. :)
---
Voyageur is prominently tagged as "procedural". That is, every planet you land on is described by a little paragraph:
The spaceport district you land on is busy, and surrounded on all sides by endless cityscape. You hurry along the roads past a group of threatening-looking locals. Crimson political graffiti is sprayed across the walls, although you don't understand the context of the slogans. Trash piles up on the roads, sometimes collected by sullen-looking recycler drones.
The sentences and details within them are randomized, based on a set of general stats about the planet. (Urbanized/agricultural/industrial, terraformed/desert/iceball, and so on.) The markets are loaded up with randomized goods ("high-grade computers", "cheap whisky", "curious gold ore", etc). And each planet might have one or more special features: religious centers, alien satellites, universities.
What you do: travel, trade, try to accumulate enough money to keep going. Long-term goals involve accumulating enough special items to make life-changing science-fictional discoveries.
The solar systems in Out There are also randomly generated, but without the detail of Voyageur. Each one has basic stats (rocky, gas giant, or habitable; high-resource or low-resource), but the only distinguishing marks are special events which might pop up:
The gravitational waves in this area have played havoc on my equipment. I fiddled around and some of it is working again, but the rest is completely out of order. What a mess--
These text paragraphs are not procedurally generated; they're selected from a large database, effectively a library of micro-sci-fi stories. On the other hand, the effects can be randomized. In the above example, a couple of your ship's systems are randomly selected to take damage.
What you do: travel, mine, try to gather enough resources to keep going. Long-range goals involve reaching various distant points on the map, where life-changing science-fictional discoveries are hidden.
Finally, we have FTL, which is much less textual; you spend most of your time fighting hostile starships. Small textual encounters are frequent:
A Rebel captain appears on the screen. "I thought we had been doomed to backwater assignments. This is my chance to get back in Command's good graces! Charge the weapons!"
Some of these offer choices (trade with a smuggler or attack him?); others, as in this example, are simply announcements (time for a fight!). In either case, you spend much less time reading text than you spend on the action (combat, upgrading your ship, etc).
What you do: travel, upgrade your weapons, try to gather enough money to survive the fights. The long-term goal, which is presented up front, is to reach the final sector and defeat the Big Boss Rebel Flagship.
---
Each game offers short textual riffs, but the texture of the texts is quite different.
A very long time ago (as times go), back in 2011, I released an iOS app titled My Secret Hideout. It was...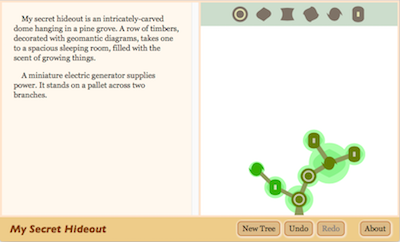 ...a wacky, creative thing set in a treehouse. It's not like any app you've seen before. Buy it! Play around with it!

My Secret Hideout has no goal, no score, no trophies. Explore it, or play with it, until you find a result you like. Will your treehouse be simple or complex? Can you guide it? What will you discover inside?
Which is to say, it was a procedural text generation experiment that I thought might sell a few copies. It did, in fact, sell a few copies. So I let it sit there on the App Store, generating its handful of dollars a month, and I went back to working on Hadean Lands and Meanwhile and all the other cool things I've done since 2011.
Then, last month, I got a notice from Apple that I really should update that app, please, or they'd yank it from the store. (Apple announced this policy last year.) This was not an illogical request: the last time I touched Hideout, it was to add support for iOS 5. The app never supported retina displays, much less the modern big-ass iPhones. It mostly still worked on current devices and the current iOS, but the layout had gotten screwy. The VoiceOver support was sort of broken. Also it had that "may slow down your device" warning, which I believe translates as "this is a 32-bit app, how Paleolithic, eww."
To be clear, I think that dropping apps from the App Store is a stupid policy. Apple's correct move would be to apply a "search death penalty", hiding obsolete apps from all browsing and keyword search. If someone still has the direct link and decides to buy the app for their ancient iPod, take their money! This is history! Preserve it, jerks.
But, to be equally clear, I could update My Secret Hideout for iOS 10. It's just not worth the time and effort, because the app makes no money. (I got a similar "please update" notice for my Heliopause app, and I jumped right on that, because it uses the same IF framework as Hadean Lands. Which makes a bit of money. All of my IF apps have now been buffed to a pleasingly modern shine.)
So is My Secret Hideout lost forever? No!
I decided that if I couldn't make money on it, I should make it free. But if I'm to make it free, I might as well make it free on a web page. That way, everybody can take a look, even those benighted souls without iPhones.
Thus: play My Secret Hideout on Itch.IO. If you like it, please consider the "donate" button.
The caveats:
The leaf-dragging animations aren't quite as bouncy as on iOS, and there are no little rustly sound effects.
It's not very accessible to sight-impaired users. This is sad, because the original iOS app supported VoiceOver. (Until that broke.)
There is no longer any way to save or export trees. Sorry. You'll have to just copy text from the web page.
I have a report that it doesn't work on Linux. Or maybe it doesn't work on hybrid touchscreen-and-mouse laptops. I'm not sure. (You'd think the HTML touch event interface would be solid by now, but no.)
On the up side, I was finally able to delete the Facebook account that supported the "Export your tree to Facebook" feature. Man, was that ever a waste of time.