Monthly Archives:
October 2011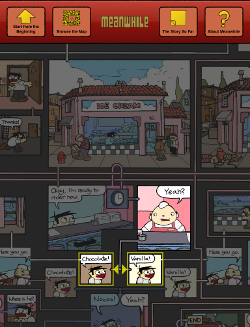 Two months ago (gad!) I said:
After I ship Hideout, I will be concentrating on [Secret Project] M37, because it too is just about finished. (And the paperwork is just about settled...) Even though M37 isn't IF either, I promise you will be excited and you will understand why I made time for it this past spring.
My Secret Hideout shipped last month, and the secret project remained secret. Because sometimes it really does take a month for the last contract details and then another month to get all the paper signed. So it flows. But now it is October, and I can finally say...
Meanwhile for iOS will be released this fall. It is a collaboration between Jason Shiga (the author of Meanwhile) and myself. And it will be awesome.
(Footnote: these are production screenshots. There will be some changes before release, particularly in the buttons.)