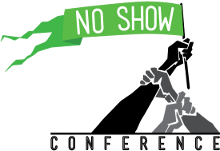 The very first No Show Conference is happening this coming weekend on the MIT campus. Organzied by local videogame producer Courtney Stanton, it's angled at game-making professionals working in any medium. As I write this, there's only a couple of dozen tickets left, so if you've access to Boston and this is your sort of thing, you may wish to get on that.
While it's not on its official schedule, No Show shall play host to this year's Interactive Fiction Summit, late of PAX East. The People's Republic decided to give PAX a pass this year, in favor of a smaller and more developer-focused conference, and lo, one has appeared. As suggested by the fact that I write this post just a few days before the event, the Summit doesn't quite have the definition it enjoyed during the PAX years; really, it's just a call for IF authors and fans to come on by and find one another.
That said, No Show does itself take a IF-philic stance — the structure of the conference's demo hall is inspired by the IF Demo Fair that Emily Short organized during last year's PAX East. Furthermore, No Show speakers include IF authors Clara Fernández-Vara, Dierdra Kiai, and Jim Munroe, presenting on a variety of topics around games and culture. (I suspect that Dierdra's alt-universe satirical examination of "Men in Games" will end up an especially popular talk.)
As a special treat, Jim Munroe will screen his new film Ghosts with Shit Jobs on Saturday evening, bracketing it with a panel discussion featuring our own Andrew Plotkin and local webcomic superstar Randal Munroe. That screening is part of MIT's summer film series, not No Show, so it's free and open to the public.
So, yes, that's where I'll be all weekend.