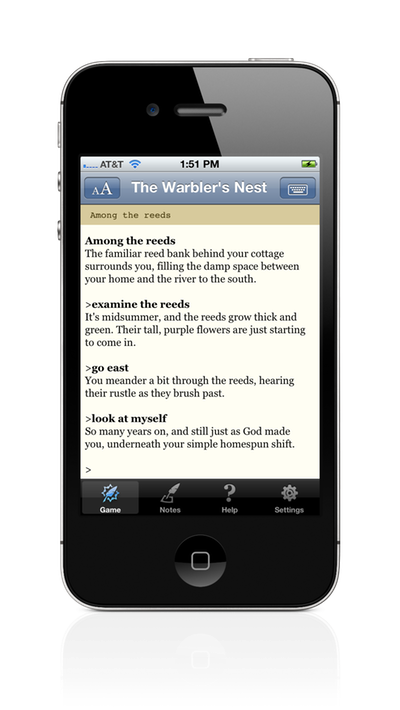 I am pleased to announce the release of my interactive short story The Warbler's Nest for iPhone, iPad, and iPod Touch. You can find it in the App Store for 99 cents American (or your local equivalent thereof). The original, free web edition of the game remains playable, but this native app brings enough unique and lovely features specific to a touch-based and text-philic platform that I hope you'll find it worth your dollar.
It comes to you by way of Zarf's iOS Fizmo, the open-source framework he released to the world in May as a milestone of the Hadean Lands project. I ship this new edition of Warbler in a similar spirit to Zarf's re-release of 2004's The Dreamhold alongside iOS Fizmo. Much as that game served as a reference implementation of sorts for the new framework, I hope mine to act as an early test case of selling modern interactive fiction on contemporary, touch-driven platforms.
I hope you have the chance to play and enjoy the game in this new format. If you do, then I would be thrilled and humbled were you to leave a brief review in the App Store as well.