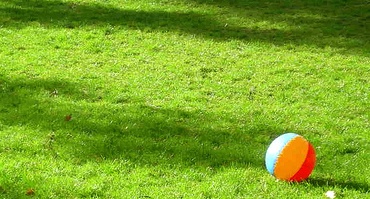 Gameshelf readers receiving the latest Humble Indie Bundle as a holiday gift are advised to begin with a playthrough of Nicklas "Nifflas" Nygren's NightSky. If through some oversight you do not yet own this game, there remains as I write this one day left to buy it and 11 other indie videogames for Windows/Mac/Linux at whatever price you wish — I put up the radio-button-suggested minimum of $15. (Twice, in fact, making an easy Christmas present of one.) Indeed, I like NightSky enough to generally recommend it at its usual $10 price once this bundle's done.
I initially saw NightSky as a disappointment, because I have very fond memories of playing through Nifflas' Knytt games, and looked forward to more of the same. On the surface, this isn't that: the NightSky player-character doesn't leisurely explore Knytt's large world of interconnected caverns and aeries, but instead rolls left-to-right, in Super Mario tradition, through a series of short stand-alone levels. Where the game offers exploration, it comes in the form of rolling and bumping your little marble across each level's crags and conveyances, testing how it slots into or caroms away from each. You sum these observations to find the one path that safely carries the player-marble over the obstacles and beyond the right edge of the playfield, ready for the next course.
Yet somehow, the same spirit that powers Knytt is present here as well. Much of this comes through the soundtrack and audio effects. The player's marble clinks and clatters like something porcelain as it bounces against hard surfaces, giving the audio a somehow nostalgic quality, like sounds echoing up the deepest recesses of the memory-well. Strains of music — often relaxed acoustic meditations, though sometimes nervous synthesized patter — wander through the ambience of wind and water, but only briefly, as if they're passing through on their way to somewhere else.
This rather matches the attitude the player must show the game while traversing it. Unless I'm mistaken, all the levels are exactly three screens wide, though many offer only one or two screens' worth of obstacles. Rather than just abbreviate these levels' length, NightSky fills the remaining width with flat open space for the player to roll their marble through, unopposed. These occasional breaks offer the player a chance to stop and admire the sounds and the scenery, the graphics that invoke Limbo's shadow-play on the surface, but also the gently sloping, gradient-filled aesthetic of Cliff Johnson's 3 in Three. NightSky's world contains other living things as well: trees sway in the background, and sleepy creatures perch on crags, watching impassively as the marble rolls on through their dens. But the marble cannot linger: the right side of the screen calls it onward, and the player must inevitably answer, saying goodbye to all this, passing through just as the music does. I certainly don't claim that NightSky is the first work to pace level-traversal like this, but it does do it so well: despite the game's minimal setting, I often depart a level feeling like I'm moving on after visiting someplace nice.
As part of evoking this on-holiday attitude in the player, the game demands little in the way of twitchy reflexes, despite its adopting the structure and mechanics of a platformer. Several times I misread a new sort of obstacle as Aha, here is the moment when the tutorial has ended and now I must perform some real feats of digital acrobatics against a cruel timer. In every case, I was mistaken: the marble's best path was no more gymnastic than that on any prior level. It was just a bit more obscure, requiring a little more testing and exploration. Where there are timers — all based delightfully on player-initiated simulated physics, rather than arbitrary countdowns — they are quite generous. The challenge of each level lies in finding the path, not in traversing it.
A practical note for new players: NightSky includes an "Alternative" mode, available from the get-go, which it recommends for those who "simply like a good challenge." I advise experienced game-players to put aside the temptation to swagger directly into this option, at least until you've played through all of the normal game. It's quite difficult, layering on persnickety platforming challenges that quite eclipse the qualities making this game special. Starting out on this foot deepened my disappointment with the game's non-Knyttness until a friend on Twitter bade me to try the normal game. The easier mode includes an option to shut off tutorial messages, which I happily did sight unseen, and that led to the very pleasant experience I have had with this work since then.
Image Credit: based on "beach ball" by Ross Day, CC BY-NC-SA 2.0.