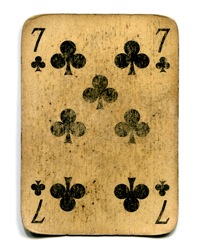 My online-multiplayer itch has been acting up again, so on the recommendation of some of my Xbox Live-playing friends, I recently started playing Full House Poker. Designed by Microsoft Game Studios, it provides a satisfyingly polished implementation of Texas Hold 'Em. It manages to really impress me in a couple of more subtle and surprising ways, though, one of which has little to do with Poker itself.
With delight did I realize, after spending an evening with it, that Full House Poker is the spiritual successor to the late and quite lamented 1 vs 100, a game killed long before its time. I managed to write about that one only once during its brief life, recounting a wonderfully humiliating moment I suffered before an audience of thousands. Between the banter provided by a live host, the clever blend of game show and videogame tropes, and the simple fact that it really was a simultaneous ludic experience shared among a huge and diverse audience, 1 vs 100 was the closest thing I've ever experienced to true interactive television.
And I assume that's what did it in, too; when you mix a videogame with a television show so successfully, I suppose you must also introduce television-specific risks to your game's health. And so I witnessed a game near to my heart suffer the same fate that befalls half the TV shows I discover and love: it got cancelled two seasons in, for reasons the audience can only guess at. It will almost certainly never come back, forever buried under the immovable weight of expired intellectual-property agreements.
So you can imagine how pleased I was to discover though Full House Poker that Microsoft didn't write off the entire parcel as a failed experiment. While it doesn't present the same experience, or at the same scale, I find it very clear that a great deal of technology, philosophy, and in-house experience developed by Microsoft for 1 vs 100 lives on in Full House Poker, despite the significant differences in the games themselves.
The resemblance comes through strongest in one of the game modes, "Texas Heat", a tournament-style game available only during certain evenings (similar to the timing of 1 vs 100's twice-weekly live shows). These events drop the player into a room containing several dozen other live players, spread across a set of tables with varying stakes. Excellent play lets you graduate to a higher-stakes table, while losing all your chips drops you to a lower one; as a result, players shuffle seats fairly regularly. The tournament runs over the course of a few rounds, each with a strict timer attached; at the end, each player collects in-game rewards based on how well they fared compared to all the other players.
Even though the Poker room you find yourself in contains only a few tablefuls of players, it still manages to express the notion that you're playing with real people, and lots of them. While there's nothing like the live color-commentating announcer that 1 vs 100 employed, Full House Poker does pause between rounds to display some statistics about the evening so far, and rattle off an appropriate pre-recorded comment about the number of concurrent players. In my experience so far (and assuming there's no number-fudging afoot), that figure's been in the middle four digits; a smaller turnout than I seem to recall for 1 vs 100 live events, but still enough to help reinforce the feeling that you're enjoying this game with many other people, all together.
I'm not sure I quite know why yet, but this information dramatically changes the tenor of the experience for me. Even when I can't directly see or hear the people I'm playing with, to know they're there anyway makes the time I spend playing feel far more worthwhile than a solitaire activity. And I like to see the range of avatars at the table, too; assuming that most people try to put a little of themselves into their Xbox avatar choices, I see myself playing with both men and women of a variety of ages and backgrounds, and that makes me even happier.
Crucially, "Texas Heat" (and, to some extent, the game's other, unstructured online multiplayer mode) also provides a place to play with the general public that feels, to me, like a safer space than a typical console-game multiplayer lobby. The Xbox avatar animations are entertainingly various and so well integrated with the flow of gameplay that there's no real need to use the voice chat, or otherwise manually emote. The option is still there if you want it, and I have had enjoyable games chatting over my friends-only channel, but tournament players seem to generally see no need to add in any communication that's not already part of the game.
As far as I can tell, the most threatening in-game action you can accomplish is have your little avatar turn to look at other people's avatars, an animation that occurs when you choose to examine a table-mate's play statistics and other info. I'm not sure I've seen any real abuses of this, though I did one online table's host perhaps attempt to turn this into a teabag by diddling his look-at-other-players button rapidly. As a result, his avatar just sort of bounced in his own chair like an idiot. (I still left the table and blocked him, because: idiot.)
(I'd be curious to hear if my observations about safety jibe with the experiences Full House Poker players who don't share my perch on the straight-wide-dude privilege mountain. I can only extrapolate based on my own objective sense of online tact.)
I'm happy to see the wisdom gained from 1 vs 100 applied to Poker, a game that, any current faddishness to one side, belongs to the public domain — any game maker can implement and experiment with it freely, unencumbered by tetchy legal agreements that may threaten to dismantle it from the outside. If Microsoft Game Studios had to use a delicate licensed property in order to gain the wherewithal to introduce this play style to the world, so be it; arguably, it's found a better home now, gone to ground with a traditional game that nobody can issue a cease-and-desist letter over.
I hope that Full House Poker has a long life online, extending itself in interesting directions. More than that, I hope that it serves as a beacon to encourage more polished, high-concept, and widely attractive same-time multiplayer without resorting to the limited appear or cynical treadmill-play of an MMORPG or Zynga game. (I also hope to write more about my adventures with this title that relate to the actual game of Poker, but we'll see how the chips fall for that, ho ho.)
Photograph by Rosella Bevivino, CC BY-NC-SA.
Review-esque disclaimer: I bought _Full House Poker myself. It's a $10 download from the Xbox game marketplace._