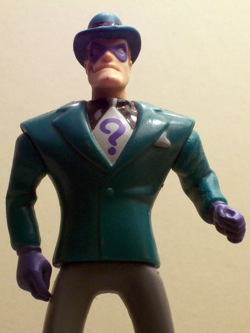 Last year at PAX East, an anonymous riddler dropped a stack of mysterious USB thumbdrives in the People's Republic's hospitality suite. The Wingding characters emblazoned upon them, it turned out, were the first key to cracking the code-based puzzles found in the drives' data. The rewards were a series of playable Infocom spoofs, starting with a mutation of Zork where the thief appears to have been replaced with Rick Astley. (He sings exactly what you'd expect.)
At PAX east 2011, they struck again, silently insinuating one more thumbdrive into the suite's washroom. I discovered it while helping to lock the place up on Sunday, pocketed it… and immediately forgot about it. But then, just last night, a twitter account connected with last year's riddles cleared its throat at us, and I remembered again! Much frenzied solving on IFMud followed.
Solvers were curious at the payload's size, which at more than 60 MB is far larger than any of last year's puzzle-packets. "It might be just a giant rickroll," I suggested, and… well, you can read the results yourself.
As I write this, the solvers on the Mud are still scratching their heads over what appears to be an audio-steganography puzzle. If you'd like to lend a hand, you can grab your own copy of the thumbdrive's contents and then join us on IFMud, where we're using the chat-channel #PAX-USB-drive.
Update: Wow, looks like the team on the Mud cracked it literally within minutes of my posting this. Nice job! (The transcript linked above now reflects this.)
I'd like to offer my appreciation to the merry pranksters who are keeping this little game going. We're all having fun with it, and even if it sometimes takes us adventure-game fanatics a little while to figure out where the puzzles are, at least we're in-character enough to pick up and carry around everything that looks remotely interesting.
Image credit: Photograph by David Marriott Jr. (CC BY-NC-ND)