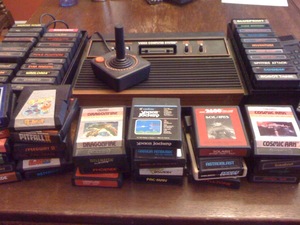 A personal note: After lugging them around for many years, I finally found a better home for my Atari VCS, its many controllers, and the sixty-odd game cartridges I had collected for it while I played it throughout the mid-to-late 1980s. Last Friday, I donated the whole lot to the GAMBIT Game Lab in Cambridge. At right is the one last family portrait I snapped on my phone before packing them all away one last time and heading to the subway.
I'd been considering doing something like this for long time, but what finally tipped me over the edge was seeing Toy Story 3. I found myself unable to avoid humanizing my poor Atari system, stashed away in the dark for so long, holding out hope after all these years that someone, anyone would set it up once again play with it.
For years, I could dismiss such thoughts by telling myself that I'd get around to it myself, someday. But it occurred to me only this year that I've irrevocably lost this ability. The Atari VCS cannot, by definition, work with flat-screen LCD televisions. Like other early home videogame systems, it displays video by, essentially, hacking the television it's connected to. Lacking any modern notion of video memory, the VCS uses a variety of tricks that all assume the presence of an electron beam sweeping across the screen, painting pixels row by row. VCS games must carefully time their internal operations to the relentless march of that beam.
I bid farewell to my last such television in 2008, giving it to a friend the same day I bought my Xbox 360 and my first LCD HDTV. I didn't think at the time about what else I gave up along with it.
I could have responded to this belated realization by trashpicking an old CRT TV, setting it up in the corner of my apartment somewhere, and finally building my own little Atari shrine. But, faced with it, I found myself thinking: why emulate Al's Toy Barn when I could instead pass it along, where it could do some good?
I'm pleased with its new home, and have great faith that the faux-woodgrained little box and its dozens of boxlets have a bright future ahead of them as an object of study for today's game students. Most of them wouldn't even have been born yet when I received the system from my older brother's friend in a big paper Stop 'N Shop bag; he had loved it for years before that, but gave it away to a game-loving kid he knew when it was time to move away. Maybe I should have done something like that myself, perhaps when I myself went away to college. But I'm happy I finally did it now. (And I used a canvas Stop 'N Shop bag, this time around.)
Confidential to Clara: I meant what I said about being willing to take on all comers at Indy 500. I still have my one-button driving-controller chops, even after 20 years. I just know it.