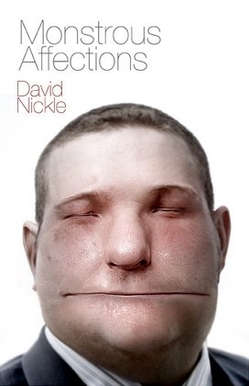 The opening cinematic of ACE Team's Zeno Clash shows a towering and unearthly creature -- cowled, hunchbacked and literally bird-legged, yellow eyes glowing like lanterns over a beaklike proboscis -- tenderly caring for some chubby, babbling babies. We see it helping one learn to walk, letting the child grasp its absurdly long, bony finger, leading it along gently.
The scene is not played as a shocking reveal; the entire, bizarre tableau is displayed at once, as soon as the game loads. The game knows damn well that you downloaded it after reading a blurb, either on Steam or on Xbox Live, that led you to expect an action-adventure about beating people up. And then it shows you this.
That, my friends, is a hook.
Here is another hook:
Mrs. Sloan had only three fingers on her left hand, but when she drummed them against the countertop, the tiny polished bones at the end of the fourth and fifth stumps clattered like fingernails. If Judith hadn't been looking, she wouldn't have noticed anything strange about Mrs. Sloan's hand.


"Tell me how you met Herman," said Mrs. Sloan.
This the opening of "The Sloan Men" by David Nickle, whose work I discovered via Pseudopod, a podcast of new short stories in the horror genre. I started listening to the show a couple of years ago as a change of pace from Escape Pod, the trailblazing SF podcast that became popular enough to spawn a handful of subgenre-specific shows, Psuedopod among them. I quickly came to prefer it over its parent show -- to my surprise, since I have never identified as a horror fan. And while I don't love every story it features, it manages to air a real winner with sufficient frequency that I look forward to each week's new show.
I quote Nickle because his stories, and the experience of having them read to me by Psuedopod's varied but consistently fine vocal talent, came to mind as I started to play Zeno Clash. From my perspective, the game appeared without warning or fanfare on Xbox Live Arcade last week. (It's been on Steam for a year, but, not much of a PC gamer, I hadn't noticed.) By coincidence, I'd purchased Nickle's collection Monstrous Affections earlier that same day -- after hearing and loving, for the third time, a story of his on Pseudopod -- so stories like "The Sloan Men" were fresh on my mind.[1]
The two stories' openings share the tactic of taking something familiar and domestic -- one parent lovingly caring for its infant children; another, enthroned in her kitchen, casually grilling her son's new girlfriend -- and mixing in something very wrong, letting it jut out in plain sight, as obvious as an exposed fingerbone. The disconnect, when executed correctly, produces a thrill in the audience, a recognition of the normal world gone horribly (aha!) awry somehow, and generates a hunger to learn more.
For me, this artful juxtaposition of the mundane with the monstrous is the very definition of contemporary horror at its best, far more so than the zombies and vampires that bulk up the genre's stereotype. What struck me about Zeno Clash, as I worked through the first hour or two of its single-digit playtime total, was its successful implementation of this particular flavor or horror literature into the videogame form, and the fact that I couldn't recall the last time I'd seen such a thing -- at least, not outside interactive fiction, which has long used the strengths of its text-based medium to establish its own tradition of horror-themed games.
You can say a lot of nice things about Left 4 Dead, but it doesn't make much room for narrative subtlety. The storied survival-horror videogame subgenre that informs it (Alone in the Dark, Resident Evil, et al) relies on the formula of an audience-identifiable outsider trapped in a dark place they don't belong, trying to fight their way back to normalcy. The player-character of Zeno Clash, on the other hand, lives among the monsters of his world as a native; and unlike, say, the Oddworld games, the situation isn't played for ironic laughs. Instead, you-the-player find yourself both repulsed and tantalized by the game's setting, unable to completely sympathize with the alien protagonist but nonetheless finding just enough familiarity among the unsettling scenery to be drawn in.
The game does an excellent job maintaining the uneasy tone established with the opening nursery scene. The tutorial level takes place in an uncertain dreamscape. Your fighting instructor, while teaching you how the controller works, keeps saying odd things, always concluding with the repeated insistence "But you are not dead" in a breathy growl. What kind of trainer is this, exactly? Soon after the plot gets underway, the main characters find themselves in a forest populated by a tribe of gibbering madmen wearing bizarre costumes. Unexpectedly, the protagonist displays admiration for them, revealing that he used to be one himself. Between fights with the colorful (and spry) lunatics, he introduces them to his traveling companion, calling them by name and noting the unique, single-minded purpose that each displays. As the camera pans over a masked figure slumped against a fallen tree, the hero beams, "She peed on herself and starved to death anonymously, because that is what she did." This is perhaps the oddest thing my Xbox has ever said, and -- as the line came delivered via good, understated voice acting -- served to trigger the connection I drew between this game and my listening to the stories of Pseudopod.
The writing keeps its high quality throughout the game, sometimes seeming somewhat too good for a game whose interactive sequences mainly deal with pounding people to a pulp with your fists. It features perhaps the least intelligence-insulting bit of foreshadowing I've seen in a console game's story: an unusual event that happens early in the game remains memorable enough that, when it's echoed by a major mid-game plot development, it relies on no supporting flashbacks or voiceover to remind you. It's subtle enough that I missed the connection while playing, realizing it only when I stopped to take a break, and I laughed with delight. (That introductory cutscene plays a similar trick, incidentally. It, and a few short subsequent cinematics, play every time you load up the game. If you play through the game over several sessions, as I did, those scenes re-contextualize themselves with every repeat viewing, and the result made me smile each time.)
The artwork is fine, too, weirdly blending a gunpowder-using society with a neolithic aesthetic, looking something like the organic landscapes of Moebius by way of Jack Kirby. I could keep going, but the game is too short to pick apart further without spoiling the rest. I'll just place Zeno Clash among the most refreshing of console-style videogames I've had the pleasure to experience in a long time. I recommend playing through the trial which -- at least on the Xbox version -- gives you a taste of both the narrative flavor and the nature of the martial-arts simulation that defines the game's action sequences. If both appeal to you, you could do worse than invest in the full game, which offers several hours of phantasmagoric fighting and storytelling of a sort I've never quite seen before.
[1] Nickle has the full text of "The Sloan Men" on his website, but I especially recommend giving a listen to the story's audio version, read by Cunning Minx.