You, the titular axe-swinging noggin-collector, must efficiently behead an endless line of trembling wretches, timing your blows so that their tumbling melons plop into baskets whizzing past. Stash as many heads as you can in this deft manner before the game's timer ends. This timer serves at the game's real standout feature, taking the form of the eponymous song "The Headsman" by Deathlike Silence, a four-and-a-half-minute rock ballad about - yes indeed! - choppin' off heads.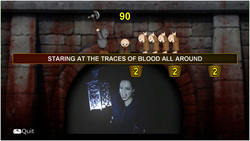 An accompanying music video plays while you hack away at your gory work, the lyrics scrolling along in time. I had not heard of this band before I discovered this game, and this is at least partly because I'm not 15 years old. The Finnish band's act is a sort of cartoon death punk, with the video depicting the gothed-up contralto frontswoman leading her cloaked and cowled band through graveyards and dungeons while the camera frequently jump-cuts away to weeping angels or grinning skulls. It's the sort of thing a movie containing a parody of a goth band might put together, but as far as I can tell the band is playing it straight (look, they have a website), and that is bloody beautiful.
The game's own activity is lightly tied into the timing of the song itself; when the refrain comes around, even the condemned can't help but start nodding to the beat. More effort appears in the audiovisual treats you receive for arcing a flying head into one of the more distant baskets, which scores you the most points. These range from basso profundo cackling to the sight of your otherwise unseen audience rising to its feet to cheer your skill at rocking the axe.
These thematic rewards serve to create a sort of custom remix of the song's prerecorded video. Combine this with the one-button control scheme, as well as the jawdropping sight of Deathlike Silence doing their thing, and despite the game's core dopeyness I find myself not just inviting all my visiting friends to play through it, but occasionally returning to myself. If you're anything like me, you too will have fire it up now and again to see if you can improve your scoreboard rank from "Rarely-miss Randy" to "Bruce the Butcher" while taking guilty pleasure in letting the music make you feel like an oily teenager again. (Yes, I have gone ahead and purchased the song from iTunes, as well.)
Interestingly, "The Headsman" was created by David Flook, previously known for the highly praised 2008 Xbox Indie game "Blow", a mellow puzzler where you guide bubbles through a vernal obstacle course. It's quite polished and beautiful, where this latter game instead revels in its rough-hewn (sorry) graphics and overt silliness, lending it the air of something knocked out quickly to blow off steam between larger projects. Despite this, this deliriously short and fun game falls solidly in my own blood-soaked "totally worth a dollar" bucket.