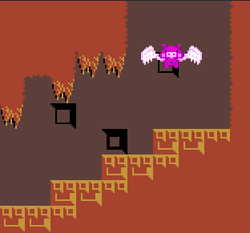 Game critic, indie-game auteur, and friend-of-The-Gameshelf Anna Anthropy has just released her latest game, When Pigs Fly, via the Newgrounds game portal.
It's a flash game about a little piggy who falls into an underground labyrinth. The piggy is helped by a pair of wings which let it soar over any obstacle, but which will fail in a burst of feathers and squealing if they brush against anything other than air. And there's your game. You have infinite lives, and "dying" sets you back only a second or two.
Edit: Finished in 32:29, with 241 accidents. I enjoyed it, though it's surprisingly tough. The visual atmosphere reminded me of Knytt, though Pigs' linearity and difficulty put it in a separate class of gameplay.