Last year I became interested in a notion of literary theory known as authorial intent. In a nutshell, it states that if there's a conflict between an author and their audience about the interpretation of a work, the audience wins. Put another way, an author's own statements about their work, when stated outside of the work itself, carry no more or less weight than those of any other well-informed reader. This I learned about after the controversy that arose after Ray Bradbury stated that his 1953 masterpiece Fahrenheit 451 was not at all about censorship, but was rather a critique of television's social effects. I found myself feeling so strongly about it that I became involved in a Wikipedia edit-skirmish over it, after certain individuals quickly marked up the book's article to indicate that decades of academic study regarding the work had become invalid overnight due to Bradbury's new words.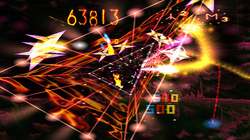 This came to mind again recently as I stumbled across the curious story of Space Giraffe while researching the market of XBox Live Arcade. To be honest, I'm not sure how correct it is to call this particular case another instance of an author's intent running contrary to that of the audience - in this case, the game's players - but it's close enough to warrant a comparison anyway.
You'll forgive me if I now give far more words to the background of my eventual point than to the point itself, since it's actually a rather interesting story. Jeff Minter, the founder and core personality of the tiny Welsh game-development house Llamasoft for the past 25 years, is at least as much a Grand Old Man of digital gaming as Bradbury is of fiction. He established his reputation early on with the international hit Gridrunner, and throughout the 1980s and into the 1990s he produced a great variety of rather strange commercial and shareware games with names like Llamatron and Revenge of the Mutant Camels. These were far better known in the UK than in the US - in the days before the web, the Atlantic Ocean still presented a significant barrier against fast information flow, even where video games were concerned.
His second great work, Tempest 2000, a rethinking of the classic arcade shooter by David Theurer, appeared for the all-but-forgotten Atari Jaguar console in 1994. (Arguably, if anyone today remembers the Jaguar at all, it's likely as not that they're remembering only Tempest 2000.) He and Llamasoft then spent several years in the background until they re-emerged just last year with Space Giraffe, a five-dollar game for the XBox console, distributed through Microsoft's Live Arcade downloadable-game service.
But the world had changed, and for a producer of video games the difference between 1994 and 2007 was far vaster than the difference between 1982 and 1994. The web had grown from its infancy to its current adolescence over these years, and "blog" had become a meaningful word. The digital game marketplace had also grown tremendously. At the start of Minter's career, he was primarily selling to fellow hobbyists and enthusiasts. Now, his medium was in the very core of the mainstream culture.
The collision between the Llamasoft's eccentric design aesthetic and the expectations of entire modern internet did not fall in Minter's favor. In fact, my own introduction to Space Giraffe, and from there my learning about Llamasoft's fascinating history, came about through my discovering references to Minter's own reactions to the game's reception. At least a couple of online discussions link to a post on Minter's personal blog where he expresses muted optimism at the game's tepid sales after its launch last summer, and another on the game's official development blog where he angrily rebuffs players (and reviewers) who find the game too difficult or unfriendly to "man up and grow a pair", ranting that the expectation of the modern gamer to encounter some easy tutorial levels followed by a steady-but-gentle difficulty curve is more pandering to the masses than a time-tested refinement in game design philosophy.
This alone paints an interesting portrait of a truly old-school game designer discovering the sort of controversy that would arise only as a result of the almost anachronistic insertion into the XBox Live Arcade catalog that Space Giraffe represents - a brand-new, high-definition, surround-sound game that still somehow feels like it's from 1985. What brings it all around to my thoughts on authorial intent are articles like this one, where Minter insists that Space Giraffe is not a followup to Tempest. Except... it totally is. I put forth that not a single person who has played the original Tempest, and who has had no contact with Minter's own thoughts on Space Giraffe's design, will fail to immediately think "Aha! Tempest!" upon seeing the newer game. Furthermore, even if they like the game enough to stick with it and discover all the ways that it's different - and there are indeed many - they will still consider it a Tempest offshoot.
Again, this particular case may not be the best fit for a real discussion of authorial intent - it smells more like a case of the author not quite succeeding in branding a particular work as non-derivative, despite their own insistence, and further despite games being a medium where derivate works are usually quite welcome, so long as they manage to bring something new to the table. But the comparison nonetheless comes to mind, and makes me more attuned to the ways that digital games continue to insinuate themselves from mere pastime to validated artform. I look forward to encountering an increasing number of games that invite gobbets of literary theory called down upon themselves with more confidence from hacks like myself.
As for my feelings about the actual game, I encourage our XBox-owning readers to download its free trial version and judge it for themselves. If you are as immediately charmed by its utterly lunatic audiovisual sensibility as I was, and also find yourself unable to resist its particular band of infectious joy, and you're willing to invest some effort into learning how to play it (chiefly from out-of-channel sources like Minter's own Space Giraffe gameplay exegesis), then it's certainly worth your 400 MS points. Otherwise, I'd pass on it. At any rate, Minter's hinted elsewhere that Llamasoft intends to continue producing further XBLA titles in the vein of Space Giraffe, and having learned all about their history just now, I can't wait to see what they do next.