Starting to edit footage for the next couple of Gameshelf episodes. This is the first time I've done editing since launching this blog, so expect me to post some fun scraps from the cutting room floor while I work.
While I'm here, lemme close a couple of tabs that have been open in my own RSS reader for a while: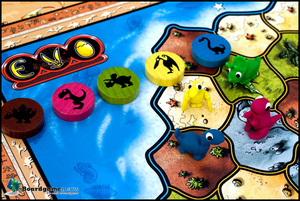 On Boardgame News, Mary Dimercurio Prasad writes about customizing board games by making her own pieces from polymer clay, and includes a HOWTO guide. I would totally play Evo again if I got to use those extra-cute dinos.

From Play This Thing we learn of Ulillillia, a young man who creates deeply analytical/obsessive videos of digital game play. He narrates them with a bright drawl and subtle humor that reminds me of coming across intriguing radio stations while driving around rural Maine at night. Here is his YouTube channel, which includes his 20-part walkthrough of Ultima: Exodus, amongst other things.