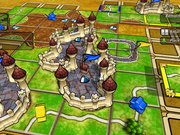 This isn't news to anyone but me, but still worth a post: Carcassonne, the tile-placement map-building game that we covered in episode 4, was released for XBox Live last year. I only recently got a chance to try it, and am pleased to report that it seems quite faithful to the board game. (Oddly, it didn't seem to allow the placement of farmers, which I hope was an artifact of my copy being a free trial version.)
The game displays, as public information, the tile that the active player is "holding" and pondering - this is good, as Carc's rules specifically state that it's supposed to be so. It also highlights all the spaces on the table that you can place the tile, which I suppose is unavoidable for a computer adaptation, but unfortunately obviates much of the reason for interplayer discussion during a physical game. I find myself quite curious what online Carc culture is like, and how chatty it is, compared to my in-person play experiences (where it's one of the chattiest non-cooperative board games I know of). I'll report further after I have a chance to investigate.
This digital version looks just like the physical board game, with just a subtle and restrained addition of special effects. Only when you complete a structure goes the game drop some 3D magic, making that map feature "pop out" and turn into a tall castle, cloister or road. The aesthetic makes it feel like the flat, incomplete structures are blueprints, and that you're not so much revealing a map of an existing landscape as you are actively constructing it.
I imagine people liking the XBox version so much that they go out and get the wood-and-cardboard edition, and find themselves gawping at the little meeples, crying "Wow, this is just like the video game!!" I am having a hard time thinking of other examples of digital adaptations with this peculiar potential. Many people have undoubtedly played, say, Chess against a computer before playing with a real set, but chess sets are so ubiquitous that all these folks had probably at least seen one before. Not so with games like Carc, which (at least from an American perspective) remain somewhat exotic artifacts.
Possible exception: Days of Wonder, who have made a point for years to have excellent and mostly-free-to-play online versions of their games available. In this case, they're Java-based, in-browser, highly literal adaptations, and so feel less "video-gamey" than anything you'd play on an XBox. But they definitely help move the tabletop product - heck, it's why I own my copy of Ticket to Ride.
Anyway, I note all this only today because I picked up an XBox 360 of my own last weekend. My Gamertag is "Jason McIntosh", and XBox-enabled Gameshelf gawkers should feel free to friend me, though I'm still learning how this thing works. I've been meaning to check out the XBox world for a couple of years, actually, because I've been quite curious about how Microsoft is handling online play - as far as I've been able to tell, they're the only console manufacturer who's been doing it correctly, and online gaming is a topic I have a deep personal investment in.
(Image ripped from GameSpot.)