The Gameshelf is looking to expand the pool of people it invites on the show to play games. Prior to this casting effort, this has been limited to game fans whom we already knew. I'd like to cast the net a little wider in an effort to get a broader variety of gamers on the show.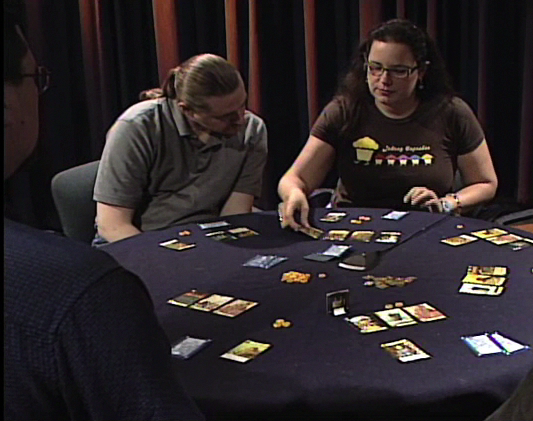 Guest gamers help the show by simply playing games on-camera, usually in SCAT's Somerville TV studio and occasionally on-location somewhere. We then mix clips of this gameplay footage with the hosts discussing the game. To get an idea how this works, watch any of our recent episodes, or one of our YouTube excerpts, such as Werewolf or Acquire. We sometimes also invite guests to participate in the little skits that punctuate each episode.
Because The Gameshelf is a low-to-no-budget effort, guests are paid only with the glory of appearing on a community access TV show and video podcast, and having their names forever in that episode's credit roll.
Guest gamers should either live in the Boston area or be able to visit without much hardship. They are punctual, showing up on-time for any shoot they agree to help with, and once arrived they are cool and good-humored under camera. Most importantly, though, Gameshelf guests love games, and want to be part of a group effort to bring the message of joy through game-playing to a global audience.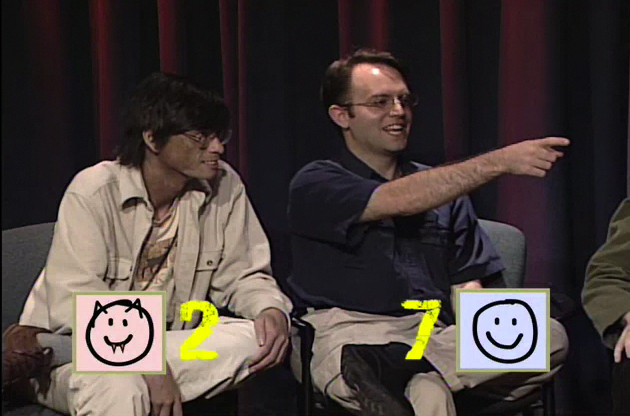 If this sounds like you, fill out the application below! You don't have to answer every question, but the more complete your form is the better your chances are. All replies will be confidential; I won't go copying your email address onto another webpage or sell it to spammers or anything like that.
Callbacks will be as spotty as The Gameshelf's own production schedule. Perhaps you'll hear from me immediately; perhaps it'll take months. Perhaps you'll bump into me on the street one day and ask me about the time you submitted the application and never heard back, I'll look all confused. At any rate, all applications will be read, filed, and ruminated upon. We may invite you to appear for an on-camera audition, which will probably involve playing a short game or two with us or with your fellow applicants.
All that out of the way, here is the actual application. Please email jmac@jmac.org your answers. Make the subject line of your email Gameshelf casting.
Name
Age
Sex
Email
Phone
What city do you live in?
What is your favorite tabletop (board or card) game? Why?
What is your favorite digital (video or computer) game? Why?
Any other games you love? (Sports? Role-playing? Puzzles? Etc?) Why?
Why do you want to be on this show?
On that note, why would I want you to be on it?
What would you change about The Gameshelf?
Anything else you'd like to say, or ask?
Finally, please attach a photograph of yourself to your email. Nothing glamorous, but enough to show me what you look like. If possible, have your photographed self wearing the sort of clothing that you'd expect to wear on camera. Use your own best judgment about that!
Feel free to toss a link to this blog entry to anyone else who might be interested in helping, and of course you can ask me any questions about the show or the casting process by commenting here or emailing me. Thanks!