I was bored Saturday night (yes, I'm allowed to be bored) and asked around for game suggestions. Someone mentioned that Desktop Dungeons was out for Mac. I had only the vaguest memory of having heard of Desktop Dungeons, but I gave it a shot.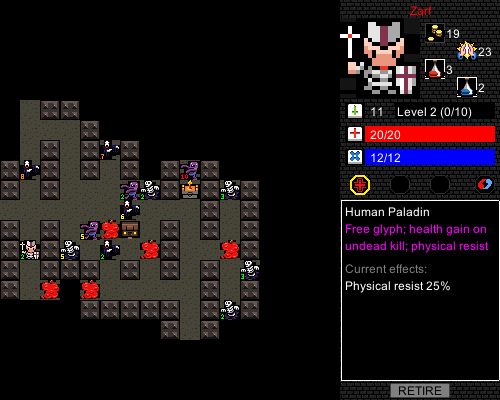 The dungeon is a little larger in real life, but I've clipped the shot rather than shrinking it.
Turns out it's a microroguelike. Meaning, it's Nethack, only short. That's nifty. The designers say it's aimed at ten-minute game sessions. It takes me twenty or thirty, because of their other nifty idea: the combat is (almost) completely deterministic. You strike for a fixed amount of damage, the enemy strikes for a fixed amount of damage. You can see all the stats in advance, so you know whether you're going to win. Also, the monsters are static -- they sit still and wait for you to pick fights.