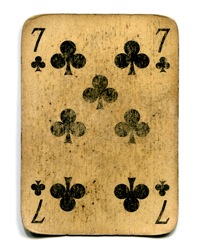 My online-multiplayer itch has been acting up again, so on the recommendation of some of my Xbox Live-playing friends, I recently started playing Full House Poker. Designed by Microsoft Game Studios, it provides a satisfyingly polished implementation of Texas Hold 'Em. It manages to really impress me in a couple of more subtle and surprising ways, though, one of which has little to do with Poker itself.
With delight did I realize, after spending an evening with it, that Full House Poker is the spiritual successor to the late and quite lamented 1 vs 100, a game killed long before its time. I managed to write about that one only once during its brief life, recounting a wonderfully humiliating moment I suffered before an audience of thousands. Between the banter provided by a live host, the clever blend of game show and videogame tropes, and the simple fact that it really was a simultaneous ludic experience shared among a huge and diverse audience, 1 vs 100 was the closest thing I've ever experienced to true interactive television.
And I assume that's what did it in, too; when you mix a videogame with a television show so successfully, I suppose you must also introduce television-specific risks to your game's health. And so I witnessed a game near to my heart suffer the same fate that befalls half the TV shows I discover and love: it got cancelled two seasons in, for reasons the audience can only guess at. It will almost certainly never come back, forever buried under the immovable weight of expired intellectual-property agreements.
So you can imagine how pleased I was to discover though Full House Poker that Microsoft didn't write off the entire parcel as a failed experiment. While it doesn't present the same experience, or at the same scale, I find it very clear that a great deal of technology, philosophy, and in-house experience developed by Microsoft for 1 vs 100 lives on in Full House Poker, despite the significant differences in the games themselves.