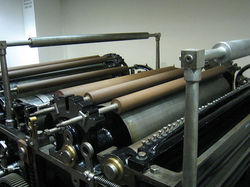 Here is one of my two funny PAX East 2010 stories: Near the start of the Friday-afternoon festivities, around the time that Zarf took the pensive-looking photo of me seen in his own PAX post, I bumped into Darius Kazemi, celebrated one-man social nexus of the Boston game-making community. We caught each other up on our respective projects, and after hearing about how I've been experimenting with writing longer, more-or-less regularly paced columns for The Gameshelf, he gave me a quest. I was to seek out a brand-new and ambitious print magazine called Kill Screen, the editors of which I could find in attendance that weekend.
The rest of Friday was then completely consumed by IF events, as others have already ably recorded. (Again, see Zarf's post for links aplenty.) When Saturday came, and after I'd succeeded in meeting my visiting Xbox Live pals for lunch, I pulled out my phone for some google-sleuthing, hoping to find where within the overcrowded PAX these magazine folks hid. A search for "kill screen" "pax east" brought me easily to this blog post by the magazine's managing editor, Chris Dahlen, where he noted that he'd be speaking on a panel in the IF hospitality suite at 7 PM. As it happened, I would be speaking on the same panel. Quest complete.
I am in possession of both video and commentary regarding that panel, but alas, my poor, broken, coffee-stained MacBook lacks the wherewithal to make the video postworthy. I expect FedEx to deliver its shiny white replacement presently, at which point I'll attempt to push my own thoughts on that panel and the whole "IF Outreach" topic into presentable shape.
Until then, allow me to review my PAX East 2010 Haul. With one exception[1], everything I purchased took the form of printed matter, and all of it came from either the Attract Mode folks or Jason Scott, both of whom had set up tables in "Band Land" amid all the musicians' merch. I took delighted surprise in finding myself coming home from a video game expo with only an armload of books and magazines, and hope you'll enjoy hearing about it.