First, I'd like to say thanks to Jason McIntosh, Kevin Jackson-Mead, and Andrew Plotkin for the opportunity to write this series; it's been extremely useful to have a forum for clarifying my own ideas on magic systems. I'd also like to thank everyone who read and commented on each blog entry. Your feedback has been very helpful, often bringing new games to my attention as well as offering helpful insights into existing games and concepts. When Jason and Kevin first mentioned the idea of guest-blogging on the Gameshelf, we agreed that a limited duration of a couple months made the most sense, in part so that other guest bloggers can carry forward the mission of the Gameshelf in many exciting ways.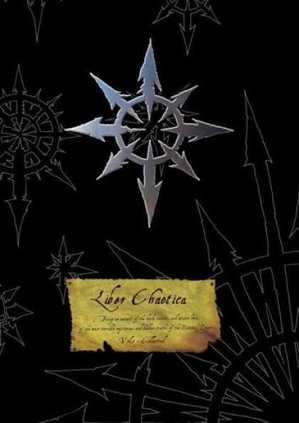 And, while in one sense I'm wrapping up this particular series, I feel more like radiating outward in many directions, because the opportunity to write here has inspired so many ideas for further exploration. Magic is an explosive nexus that doesn't react well to being contained or bottled up. It's best to answer the question: where next? And the inevitable answer is: many directions. This installment is written under the aspect of the sign of chaos (as invented by fantasy writer Michael Moorcock and adopted equally in games like Warhammer 40k and Peter Carroll's occultist movement Chaos Magick). In its positive sense, chaos is a signpost pointing toward a multitude of possible paths, liberating creative energy rather than confining it.
As far as my own creative work goes, I'll be posting a new video of my Arcana Manor interface on Youtube soon, since I now have working code in the form of drag and drop elements of spell grammar feed into array, as well as a function for matching the changing contents of this array with a database of spells. Using GlovePie, I now have keyboard input controlled by voice, as well as drawing input via the Grafitti bitmap drawing library in Actionscript 3.0. I'm currently working with mouse gesture recognition libraries in order to allow drawing gestures to be fed to the array, thereby making drawing a fully integrated aspect of the interface.