Occasionally someone asks me about porting System's Twilight to a modern platform, because setting up a Mac emulator is a pain. I figure that someday the Internet Archive's Software Library will have it, and I'll just point there.
(In fact JSMESS already supports early Macs, but I don't know how to set it up for a single game on my web site.) (No, this is not a task I intend to tackle right now.)
Anyhow, I started checking the status of the Software Library last night, and got distracted looking through the Apple 2 section. I played a little of this and that -- games I remembered from my childhood -- and then my attention was snagged:
Penqueriel Mazes (19xx)(Sadistic)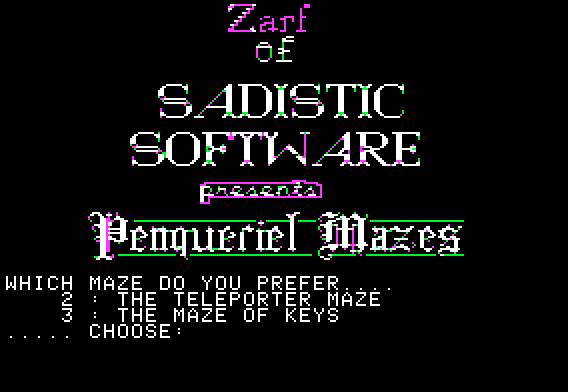 Yes, that's me.