I have many clever and creative friends who like games. One or another of them will regularly host game-playing gatherings at their homes, where we sink a few hours or more into various tabletop contests. But sometimes, some of these clever and creative people will find themselves a little tired of the well-worn titles, and that's when the combinatory experimentation starts.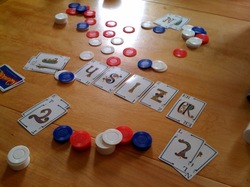 I took this photo last weekend, during one such event. The card-based word game Quiddler (published by Set Enterprises) is an old favorite of many-perhaps-most of my gamer friends. My pal Marc, one of the weekend-long game-gathering's hosts, led a groggy Sunday-morning group in inventing the mashup of Quiddler and Texas Hold Em depicted here. Players each held two of Quiddler's letter-cards, and as community cards appeared according to the standard flop-turn-river pattern, players bet on wether they held the highest-scoring Quiddler hand. This photo shows the final round's winning hand in the lower left; it allowed Marc to spell ZITHERS.

One especially memorable mashup I enjoyed several years ago, via the same group of friends, was "Apples to Ideas", a collision of the increasingly well-known party game Apples to Apples (Out of the Box Publishing) with the rather more obscure party game The Big Idea (Cheapass Games). It essentially involved pitching pairs of the green and red apple cards instead of using the standard Big Idea cards, and otherwise playing according to the The Big Idea's rules, which involves rapid-fire pitching of cockamamie startup-company ideas based on the cards you play. We found that this not only led to a much larger pool of cards, but players had to get more creative coming up with (at least vaguely) legitimate-sounding business models based on cards not tuned for this purpose. During this one game, I scored big by playing the card pair [Industrious] [Industrial Revolution], selling it with the slogan The socioeconomic paradigm shift so nice, we named it twice!™
Have you seen, pondered, or even invented and playtested any game-mashup ideas, yourself?