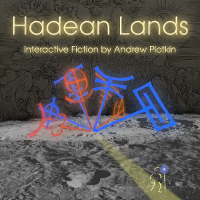 Two weeks ago I put up a teaser image, which drew a lot of nice comments and anticipation within the IF community. (Thank you!) But one image in one blog post does not a lifestyle make, and today the real fun begins.
Here's the scoop: at the end of this year, I plan to quit my job and start working on interactive fiction full time. Yes, really. The space madness has struck and it's time to do this thing. I can't do this in my spare time any more; I have too much work to finish in the IF world, and it eats at me every time I leave for my day job.
Go to the Kickstarter page to watch the awesome introductory video! (A Gameshelf production, of course.) You can also play the teaser scene of Hadean Lands on my web site.