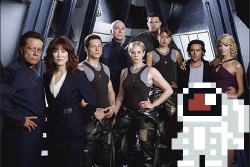 Thanks to Twitter, I found myself vicariously attending GDC this year. Allow me to recount some of the more interesting things I heard people talking about.
---
Anna Anthropy released
REDDER
, a puzzley explore-and-collect game, free to play on the Newgrounds portal. Unlike
When Pigs Fly
, her previous effort, the difficultly comes not from its demanding feats of digital dexterity, but rather from the large size of the world, and the things about the world you must learn and remember while you strive to collect the shiny treasures. Give it a try, and block out a couple of hours to play it through if you like it.

One reason why I like Anna's games in particular is the same reason I liked watching the latter-day Battlestar Galactica so much. Ron Moore, BSG's executive producer, took advantage of internet publishing to create and release commentary tracks, in podcast format, almost at the same time the shows aired. They felt less like a producer reminiscing about a past project, and more like lectures about the challenges and strategies of putting an episodic TV show together, spoken by someone who was still in the thick of it.
Similarly, Anna is at least as active in presenting lectures and articles on level design (which we've linked to before) as she is with releasing actual games. Soon after I started When Pigs Fly and saw the grassy turf three screens over from the start, I may have said "heh heh" out loud. I felt that I knew exactly why she put it there, even though it had no explicit in-game effect, and I probably wouldn't have if I hadn't been reading along with her exegetic work.