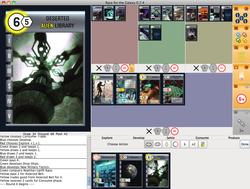 Turns out that both of the card games I wrote about Monday have officially sanctioned online versions. Dominion's had an internet-playable implementation on the beloved BrettspielWelt for some time, but I only today got around to trying Race for the Galaxy's computerized counterpart (pictured here). Both games are perfectly functional and free to play, but have a cost in… well, let us say that a polished user interface is not the top priority of either effort.
The brazenly unstyled HTML of Keldon Jones' Race for the Galaxy page lets you know from the start that he isn't out to impress you with a razor-sharp UI. But if it's Race practice you're after, I find his solution far more satisfying than the solitaire variant that comes packaged with the card game's first expansion set. Keldon has been developing this AI in the sunshine for nearly a year, updating it frequently, and it's very good. It consistently kicks my butt, anyway, whether with the base deck or any of the expansions — every one of which the programmer has implemented, and which you can mix in or out before each game.
In the tradition of one-hacker game-adaptation projects, obsessive focus on the rules and AI leaves the UI a secondary concern. Even with the simplest setup, it's hard to tell with this Race board when anyone draws cards, for example, or which turn-phase is active. However, it quickly earned my trust that it wasn't skipping any of the growing pile of interacting rules-exceptions that build up over the course over a single game. The requirement for every player to perform their own bookkeeping represents the weakest part of the physical game's UI — one that I mess up all the time, to the annoyance of my friends, who grudgingly allow me to draw the bonus card I forgot to draw two phases ago. But this computer game quietly makes a non-issue of it, and I like that.