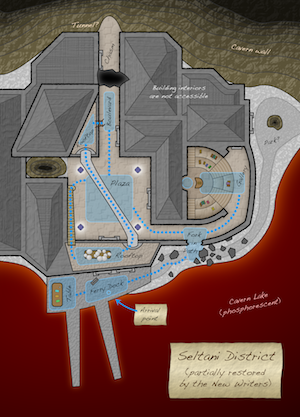 We showed off Seltani at Indiecade! To lots of people. Lots and lots. Not everybody was interested -- it was, after all, a text game in a hall crowded with flashing lights and VR headsets -- but plenty of people thought it was worth a look. Some were Myst fans (or even Myst Online fans); some were old MUD users; some were familiar with Twine but had never seen a multiplayer Twine-like.
I gave out stacks of postcards with this map I did of the Seltani District (the game's initial hub area). It had the URL on the back, obviously. (Note to self: next time I reprint the postcard, boldface the URL.)
In a wiser and more organized world I would have a story to tell about Indiecade, but it's not, I don't, and I'm moderately exhausted in a hotel as I write this. So you get lists.