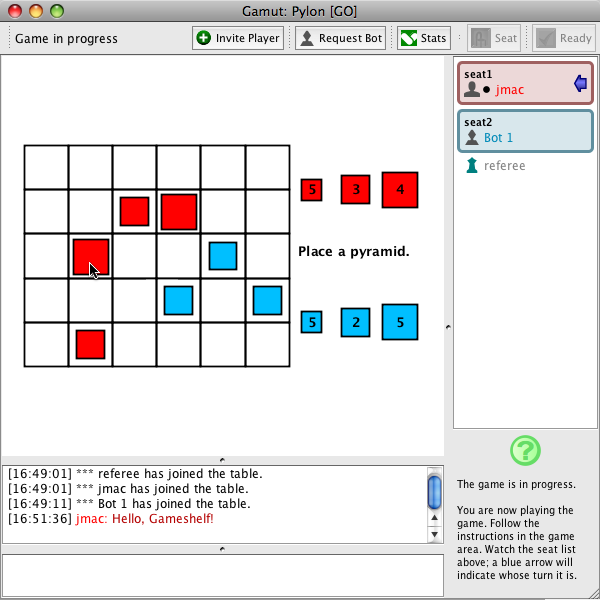 Doug Orleans' Pylon, winner of the 2007 Icehouse Game Design Competition as reported in Episode 6, is now an online game! It's hosted on the Volity Network, with art and programming by Doug himself. The user interface is rather basic but entirely functional, and the game's playable against both human and automated opponents. Give it a try!

(Special insider Gameshelf trivia: I referred to Doug as "Somerville's own" during that show, even though he had moved to Billerica, several towns away, by then. But I figured that he probably at least started to think about the game that would become Pylon while he still lived here, so it was all good.)
---
Some unrelated notes, while I'm here:

I discovered a couple of days ago that the spam-fighting features of this blog were wound a bit too tightly, and perfectly legitimate comments were getting treated as junk. If you got a message that your comment was being held for moderation, but you never saw it appear even days later, please accept my apologies! All such comments have been promoted to their rightful, visible status now, and I've tweaked the blog's spam-fighting settings to act a bit more lenient. Please let me know if you sense anything fishy going on in the future.
In happier news, I'm pleased to announce that production has begun on our first couple of new episodes for 2008. These shows will be different from those that came before, in several ways. We're trying new things with the format, and we're also shooting footage for more than one episode at once, which I will later edit into separate half-hour shows; this is my attempt to complete more than two shows per year. It's gonna be the best year yet for The Gameshelf, and we're happy to have you watching!